Looking for a quick and simple dish that will turn out delicious for your breakfast? Give this quick recipe, Bacon And Egg Quesadillas and straightforward dish a go; it will make your day that much more delightful.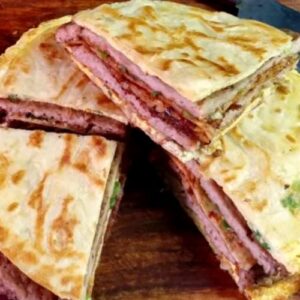 Bacon And Egg Quesadillas
When stacked up on tortillas, grilled bacon, pork, and eggs are some of the best food at the Pit, particularly if you follow the straightforward advice provided here. Put on your BBQ boots and check out this simple recipe.
Equipment
Grill

Big Bowl

Cast Iron pan
Ingredients
Tortillas

Ground Pork

Bacon

6

pcs

Eggs

Pepper Jack Cheese

Jalapenos

(chopped)

Onion Powder

White Pepper Powder

Salt

SPG Seasoning

Hot sauce

Scallion

(chopped)

Oil
Instructions
Pre heat the grill. Put the bacon on the grill for direct cooking for a few minutes.

Put the ground pork in a big bowl, add the onion powder, white pepper powder and SPG. Mash and mix altogether. Pour oil in a big cast iron pan, then flatten the mixed pork in the pan.

Remove bacon from the grill and set aside.

Place the cast iron pan over the grill to cook the pork, then after a few minutes remove the pork on the pan and place it directly on the grill for another minute and set aside.

Have 2 bowls put the 3 eggs, scallion and jalapeños on one of the bowls then whisk. Add grated pepper jack cheese, mix. Do the same on the other bowl.

Place cast iron pan on the grill, pour some oil and lightly fry the tortillas, set aside. Pour some oil again on the pan and add the whisked egg mixed and drop the tortillas on top so they become one.

Flip over to cook the other side. Cook the other whisked egg mixed. Put the pork on top of the mixed and add the bacon and cheese.

Spread hot sauce to another tortilla before placing it on top, spread sauce again on top of the tortilla, add cheese, the scallion, the cooked pork and the cooked tortilla mixed.

Remove from the pan, Slice and serve.
Video