When you prepare this beer can chicken, be ready for a juicy, falling-off-the-bone entire chicken that is crispy on the exterior and soft on the inside.
Try this Whole Chicken from Porter Road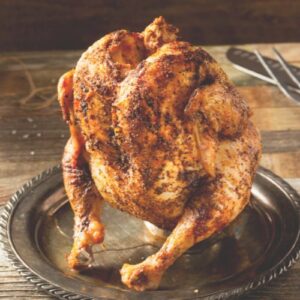 Beer Can Chicken Recipe
Making and eating can chicken is a lot of fun. This will definitely spark talk at your party!
Equipment
Stainless Steel Bowl

Grill

9-Inch Baking Pan

Foil
Ingredients
1

Teaspoon

Sugar

1

Tablespoon

Salt

1

Teaspoon

Onion Powder

1

Teaspoon

Cayenne Pepper

1

Teaspoon

Garlic Powder

1

Teaspoon

Ground Mustard

1

Teaspoon

Paprika

1

4Lbs

Chicken

1

12oz

Can Beer
Instructions
Mix all of the spices in a stainless steel bowl.

Rub spices beneath loose chicken skin.

In the refrigerator, chill the chicken for 1 hour.

A 9-inch baking pan should be lined with foil, and the grill should be heated to medium. Put a rack of chicken in the baking dish.

Make four sizable holes in the top of the beer can and remove half of the beer from the can (in addition to the open top).

In the chicken rack, put the beer can.

Place the chicken vertically on the grill rack and cook it for 90 minutes over indirect heat.

Tent the chicken and let it to stand for ten minutes. Serve.