The famous Southeast Asian street snack known as satay, which is regarded as Indonesia's national dish, typically consists of skewered and grilled marinated beef that is then served with a simple sauce dip. Many various types of meat, marinades, spices, and even skewer materials may be used to make satay, depending on the locale.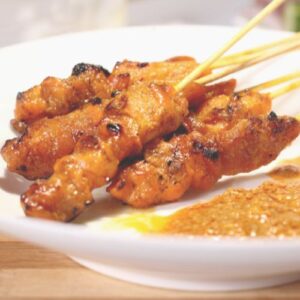 Satay Recipe
Enjoying your grilled chicken with this classic Indonesian cuisine is a terrific idea. Exceptionally well-marinated, perfectly-grilled chicken satay skewers. BEST creamy peanut sauce ever served with the meal!
Equipment
Griller

6 Skewers

Large Bowl
Ingredients
6

Boneless Skinless Chicken Breast Halves

(Cubed)

3

Tablespoon

Tomato Sauce

3

Tablespoon

Soy Sauce

2

Cloves

Garlic

(Minced)

1

Teaspoon

Peanut Oil

1

Tablespoon

Vegetable Oil

1

Pinch

Ground Cumin

1

Pinch

Ground Black Pepper

1

Cup

Water

1/4

Cup

Onion

(Minced)

1/2

Cup

Chunky Peanut Butter

2

Tablespoon

White Sugar

1

Tablespoon

Lemon Juice
Instructions
In a large bowl, combine the soy sauce, peanut oil, tomato sauce, pepper, garlic, and cumin.

Add the chicken to the mixture and thoroughly coat.

For 30 minutes, cover and chill the dish in the fridge.

In a skillet over medium heat, sauté the onion for 5 minutes before adding the garlic and cooking for an additional 1 minute.

In a saucepan, combine the peanut butter, water, soy sauce, and sugar while frequently stirring. Lemon juice is added after the heat is turned off.

6 skewers with chicken should be used. Grill the chicken for five minutes each side. Serve.