Because it is so flavorful and tender, the smoked pork butt produced by this simple smoking method at a low and moderate temperature makes the most beautiful pulled pork you have ever tasted. Perfect for any outdoor grilling or cooking event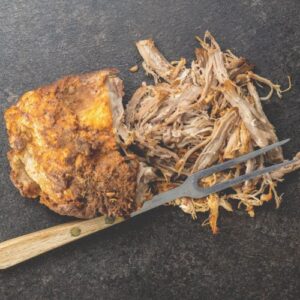 Easy Smoked Pork Butt Recipe
A straightforward smoked pork butt can be made in a matter of hours using only three ingredients.
Ingredients
8

Lbs

Pork Butt

4

Tablespoon

Dry Rub of your choice

6

Tablespoon

Classic Yellow Mustard
Instructions
Put the pork butt in a sealable plastic bag after seasoning with dry rub.

The pork butt was covered with mustard, sealed in a bag, and chilled the next day.

After 8 hours of smoking, take the butt from the smoker and wrap it in tin foil.

Heat the butt in the smoker one more to 275 °F.

2 hours of smoking followed by 30 minutes of resting. Pull or slice, then serve.