Put some heat into those balls; that's the way she loves it! These beef burger balls wrapped in bacon are given a traditional meatloaf treatment by being cooked over low heat for a long time before being served with a layer of marinara sauce and melted cheese on top. In addition, as shown by the BBQ Pit Boys, grilling is a really simple process.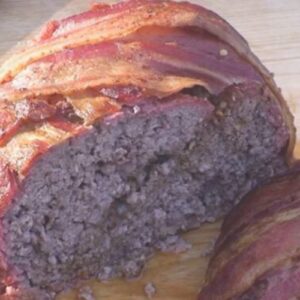 Fireball Meatballs
Who doesn't love meatballs? Try this simple and unique recipe with a twist and enjoy a plate of meatballs turn into fireballs. A little bit sweet, a little bit spicy, and a whole lotta wonderful! Those are Fireball Meatballs!
Ingredients
2

Lbs

Bacon

6

Lbs

Ground Beef Chuck

4

Teaspoon

Cajun Seasoning

6

Teaspoon

Garlic

(minced)

1

Cup

Onion

(chopped)

4

Teaspoon

Red Pepper

(flakes)

2

Teaspoon

Salt

2

Teaspoon

Black Pepper

4

Tablespoon

Prepared Mustard

4

Tablespoon

Worcestershire Sauce

Tomato Sauce

Shredded Cheese

Corn

(optional)

Taters

(optional)
Instructions
Divide the ground beef into two. Roll them into two fireballs.

Into each add the 3 teaspoon minced garlic, ½ teaspoon chopped onion, 2 teaspoon of Cajun seasoning, 2 teaspoon red pepper flakes, 2 tablespoon Worcestershire sauce, 2 tablespoon mustard, 1 teaspoon salt and 1 teaspoon pepper.

Mix in well in each fireballs and shape into a ball. Wrap each fireballs with bacon.

Set the grill for indirect cooking at about 300 degrees. Place the fireballs in a shallow pan. Place the pan onto the grill. Cover the grill and cook with the lid on for about 2 ½ hours.

After an hour, check in on the fireballs and drain off the fat that is collected in the tray and turn the pan around for even cooking.

After another hour, remove the remaining fat on the tray. Pour on tomato sauce and cheese on top of the fireballs, put the cover on and cook for another half hour. Cook the fireball at 160 degree internal temp.

Remove from the grill and place in a plate. Slice the fireball, plate with corn and taters. Serve and enjoy!
Video