Delicious Greek flavor abounds in this simple recipe. Greek chicken kabobs are a delicious alternative for both indoor and outdoor grilling because of their amazing flavor. Serve these Greek chicken kabobs after cooking them on the grill or in the oven! The perfect summer meal.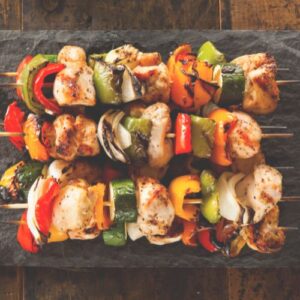 Greek Chicken Kabobs Recipe
These grilled chicken kebabs are a quick and nutritious midweek supper favorite because they are made with boneless, skinless chicken breast that has been marinated in the typical Greek flavors of lemon, garlic, and oregano.
Ingredients
1/3

Cup

Crumbled Feta Cheese

8

Oz

Fat Free Plain Yogurt

2

Tablespoon

Lemon Juice

1/2

Teaspoon

Lemon Zest

1/2

Teaspoon

Salt

2

Teaspoon

Dried Oregano

1/4

Teaspoon

Crushed Dried Rosemary

1/4

Teaspoon

Black Pepper

1

Wedged Red Onion

1

Cubed Green Bell Pepper

1

Lb

Boneless Skinless Chicken Breast

(Diced)
Instructions
Combine feta, yogurt, lemon juice, lemon zest, salt, pepper, oregano, and rosemary in a small baking dish.

In the dish, add the chicken and coat with the mixture.

Refrigerate for three hours with a cover on.

Set the grill to high heat.

On each of the four skewers, alternately thread chicken, peppers, and onions.

Grill the chicken until the juices are clear. or about 10 minutes. Serve.