This juicy, tasty Grilled Margarita Chicken has a fantastic marinade made of tequila, fresh lime, and orange juice. This adaptable grilled chicken may serve as the foundation for some delectable summertime dishes.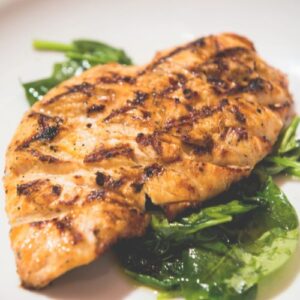 Grilled Margarita Chicken Recipe
Because this chicken has a taste that is unmistakably reminiscent of margaritas, you should feel free to serve it together with other alcoholic beverages.
Ingredients
1

Cup

Lime Juice

1/2

Cup

Gold Tequila

1/2

Cup

Orange Juice

1

Tablespoon

Minced Jalapeno Pepper

1

Tablespoon

Chili Powder

1

Tablespoon

Minced Garlic

1

Teaspoon

Black Pepper

2

Teaspoon

Salt

3

Boneless Skin on Chicken Breasts
Instructions
Mix the lime juice, tequila, orange juice, jalapeño, chili powder, garlic, pepper, and salt in a large bowl.

The chicken should be added and coated before being covered and chilled in the fridge for the night.

Preheat a grill to medium high heat.

Chicken breasts should be salted and peppered before being grilled over direct fire for 5 minutes with the skin down.

Cook for another 10 minutes while turning and covering.

After five minutes of resting under cover, serve.