If you like French dip sandwiches and Korean cuisine. Why not combine such delicious flavors? Sliced thinly and topped with some killer Korean spices is BBQ grilled pork shoulder! A Korean inspired food together with French dip sandwich combined for an amazing recipe that everyone will crave for.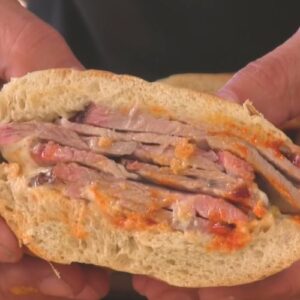 Korean French Dip Sandwich
A French dip sandwich and a dish with Korean influences have been combined to create a mouthwatering delicacy.
Ingredients
7 1/2

Lbs

Pork (Boston butt)

Kosher Salt

Ground Black Pepper

Pork Jus

(recipe below)

Bread

Horseradish with Sour Cream

Pork Chicharon/Cracklings or Pork rind

Kimchi Mayo

Kpops XXX Sauce
Pork Jus
3 1/2

Lbs

Pork Neck Bones

Olive Oil

1 teaspoon Apple Cider Vinegar

Cold Water

1/2 Bulb Garlic

1/2 Onion

2 Stalks of Celery

2 Carrots

Handful of Parsley

Sprig of Rosemary

Sage

Thyme

Kosher Salt

Ground Pepper
Instructions
Season pork with Kosher salt and pepper.

Prepare the pit for roasting at about 350 degrees.

Put the Pork inside the pit and monitor it until the Internal temp is 140 degrees. Cook for about 3 hours. Once the pork is cooked, let it rest for a few minutes before slicing it.

Dip the whole bread in the Pork Jus.

Put the sliced porks on half of the bread, drizzle with horseradish, top with pork chicharon or pork rind, add Kimchi mayo and XXX sauce. It's now ready to be serve and to be enjoyed.
Pork Jus
Put the Pork bones in a pan and drizzle with olive oil.

Then put in the oven for about 30 minutes until golden brown.

After 30 minutes, add water and make sure the pork bones is covered with water entirely. Put the apple cider vinegar.

Once water is boiling reduce it to simmer for about an hour. After an hour add the garlic, onion, celery, carrots, parsley, sprig of rosemary, sage and thyme.

Submerge everything then, add kosher salt and ground pepper. put the lid on it and let it simmer for 12-13 hours.

After simmering, remove bones, veggies and herbs. If needed add more salt to taste.
Video