One of our most popular dishes, Miko Moko Cornish Hens, is one that you will undoubtedly adore. It is highly recommended that you give these game chickens prepared on the barbecue in the Hawaiian way a try.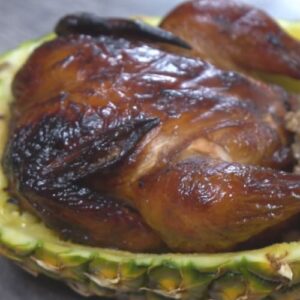 Miko Moko Cornish Hens Recipe
A favorite dish that you will surely love. These Hawaiian style grilled game hens are definitely worth a try!
Ingredients
4

Cornish Game Hens

1

2-gal Ziploc Bag

Green Onion

(chopped)

2

cloves

Garlic

(chopped)

2.5

lbs

Ground Pork

¼

cup

Soy Sauce

2

tbsp

Sesame Oil

3

tbsp

Sherry Cooking Wine

Salt

Pepper

2

tbsp

Cornstarch

2

tbsp

Water

2

Pineapples

(for serving/presentation)
Marinade Ingredients
2

tbsp

Sugar

¼

tsp

Five Spices

2

tbsp

Sherry Cooking Wine

½

cup

Soy Sauce

2

slices

Minced Ginger

2

cloves

Minced Garlic
Instructions
For the marinade, mix all ingredients in a bowl until everything is well combined.

Prep the Cornish hens and clean them beforehand, pat dry, and put in a Ziploc bag. Pour the marinade in and marinate overnight in your refrigerator.

Saute green onions. After a minute or two, add garlic and saute for another minute. Set aside. Brown the ground pork, then remove and set it aside.

Mix soy sauce, sesame oil, sherry wine, salt and pepper in the pan and bring to a boil. Then add the cornstarch and water. Mix, then add the sauteed onion, garlic and ground pork. Stir until incorporated, you can add water if necessary.

Prepare your smoker and place the Cornish hens inside. Smoke for about 30 minutes, then flip the hens over.

Cook to 180F / 82C Internal temperature before removing your hens from the smoker.

To serve, split pineapple in half horizontally from base to crown with the leaves left intact and cored the fruit in the pineapple. Place the Cornish Hens in the pineapple and the ground pork to serve.
Video