This pepper relish is used as a flavor for a wide variety of foods, ranging from grilled cheese sandwiches to burgers and hot dogs. When you add some to the chicken that has been grilled, you will have pepper relish chicken that is guaranteed to get the party started.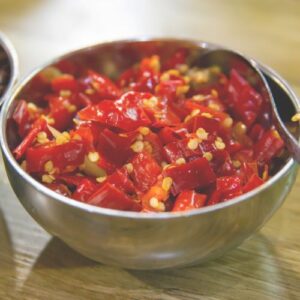 Pepper Relish Chicken Recipe
Your visitors will be so blown away by the results of this dish that they won't even be able to tell that it's wholesome and loaded with vitamins.
Ingredients
1/4

Teaspoon

Ground Cinnamon

1/4

Teaspoon

Ground Nutmeg

1/4

Teaspoon

Ground Clove

1/2

Teaspoon

Salt

2

Tablespoon

Lemon Juice

1/4

Cup

Peach Preserves

1/4

Teaspoon

Red Pepper Flakes

(Crushed)

1/3

Cup

Sweet Red Pepper

(Chopped)

1/3

Cup

Green Pepper

(Chopped)

2

Chopped Peaches

(Peeled)

1

Green Onion

(Chopped)

2

Tablespoon

Minced Mint

4

Boneless Skinless Chicken Breasts

(Approx. 6OZ Each)
Instructions
Salt, clove, nutmeg, and cinnamon should be rubbed to chicken breasts.

Combine peach preserves, lemon juice, and red pepper flakes in a stainless steel bowl.

Combine red and green peppers, peaches, mint, onion, and 2 tbsp of the glaze mixture in a separate stainless steel dish.

Use all of the leftover glaze mixture to coat the chicken.

Heat the grill to medium after gently oiling the grill rack.

For 7 minutes on each side, grill chicken over direct heat while it is covered.

For a further 7 minutes, turn the grill.