This KILLER Polish Smash Burger is my way of paying tribute to Poland in the form of a Burger. A combination of ground beef and ground kielbasa, mixed in equal parts, topped with two different kinds of cheese and a sauerkraut sauce laced with beer and mustard.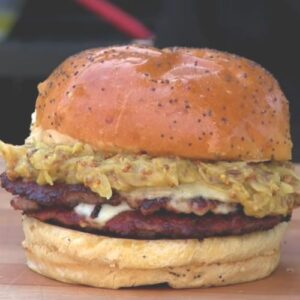 Polish Smash Burger
A tribute burger recipe for Poland. A very appetizing recipe that everyone will love especially those who are burger enthusiast.
Ingredients
Beef Kielbasa

Tri-Tip Steak

Sauerkraut Sauce

(recipe below)

Brioche Buns

Clarified Butter

Muenster Cheese

Gouda Cheese
Sauerkraut Sauce
1

Teaspoon

Caraway Seeds

Beer

2

Tablespoon

Stone Ground Mustard

1

Tablespoon

English Style Mustard

2-3

Tablespoon

Sauerkraut
Instructions
First, dice up the meat to have that 50/50 blend of ground beef kielbasa and ground tri-tip steak. This is done by cutting the beef into cubes, then use a grinder putting 1 cube each to get the 50/50 blend.

After grinding, place it in the refrigerator for a few minutes before making meatballs out of it.

Put clarified butter on the griddle grill and toast the bun. Then, put the meatballs in the griddle to cook, smash it to form the patty.

Sprinkle with kosher salt and ground pepper. After a few minutes, flip it over to cook the other side. Place cheese on top of the beef patties.

Once done, put patties on top of the bun, then put the sauerkraut sauce on top. You can now taste this amazing smash burger and you can partner it with a beer.
Sauerkraut Sauce
Toast the caraway seeds in a preheated cast iron skillet, then pour beer and mix. Add stone ground mustard, english style mustard and sauerkraut, mix until everything is incorporated.
Video