Omelettes is an all time favorite. We have here another version that you will sure love and crave for more. Try this simple yet, amazing recipe.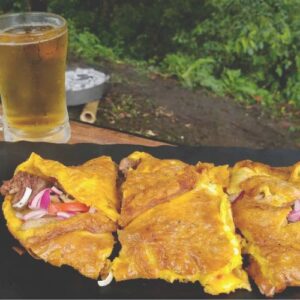 Prime Beef Omelette
The largest appetites may be satisfied by this omelette. It's a true game changer that's stuffed with cheese and meat. Perfect for a substantial breakfast or even tailgating, it's guaranteed to delight.
Ingredients
Beef Rib Strips

SPG

(salt pepper garlic seasoning)

Eggs

Cheese

Bacon

Red Onion

Tomatoes

(thin sliced)

King oyster Mushrooms/Portabello Mushroom

Soy Sauce

Apple Cider Vinegar

Olive Oil

Butter
Instructions
Heat up the cast iron pan on the grill.

First to cook is the bacon and mushroom, set aside after then cook the beef add the SPG.

Cook beef into medium rare, then cut into pieces. Put it back into the cast iron pan to cook for another minute. Set aside.

Heat up the steel pan. Whisk eggs and add SPG in a bowl. Pour olive oil and butter on the pan.

Then add the whisk eggs, top with cheese and cook. Set up the bacon, mushroom, beef, onions and tomatoes on top of the omelette.

Fold the omelette over the edges, remove from the pan, slice and serve while hot.
Video