A delicious and simple supper meal is pork souvlaki marinated in oregano, garlic, and lemon before being skewered and cooked till golden and juicy. The meat is juicy, tender, and deliciously presented on a platter or in a wrap. Every time, this pork souvlaki recipe yields incredibly juicy meat skewers. This variation on the Greek classic pairs perfectly with a large Greek salad.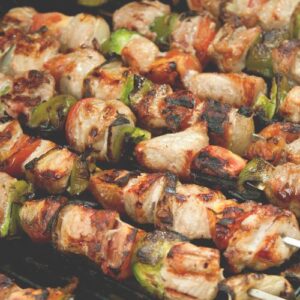 Greek Pork Souvlaki Recipe
This twist on the traditional Greek recipe goes well with a big Greek salad. These Greek Pork Souvlaki are really simple to prepare and taste so incredible that you'll want to cook them all summer long on your outdoor barbecue!
Ingredients
1/4 Cup Olive Oil

1 Juiced Lemon

1/4 Cup Soy Sauce

3 Crushed Cloves of Garlic

1 Tsp Dried Oregano

2 Cubed Yellow Onions

2 Cubed Green Bell Peppers

4 Pounds Cubed Pork Tenderloin
Instructions
Pork, green peppers, onions, garlic, lemon juice, soy sauce, extra virgin olive oil, and oregano should all be combined in a glass bowl. Stir well.

For 2 hours, refrigerate with a cover on.

Pork, onions, and peppers are threaded onto skewers while the grill is heated to medium-high.

Per side, cook for 8 minutes. Serve.