Try out this classic steak kabob recipe, which only calls for five ingredients. A popular Persian dish called grilled Persian Kabobs is made from ground lamb, beef, or a combination of the two. The source of the most divine aroma that permeates the street or the indoor bazaar can also be found by following your nose.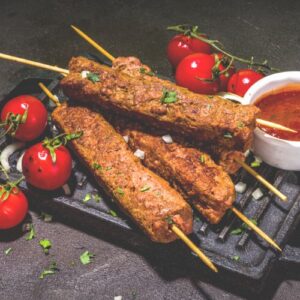 Grilled Persian Kabobs Recipe
The meat used to make Persian Kabobs might be ground beef, lamb, or a mixture of the two. One of the best kabob recipes I've ever discovered is this one. Typically, the kabobs are barbecued over hot coals or on a BBQ.
Ingredients
1

Onion

(Chopped)

2

Lbs

Beef Tenderloin

1

Tablespoon

Salt

1/8

Cup

Fresh Lime Juice

1

Pinch

Ground Black Pepper
Instructions
Beef should be cut into cubes and combined with salt, onion, lime juice, and black pepper in a big bowl.

Overnight in the refrigerator, cover and chill.

Put the grill on high heat and skewer the steak.

Per side, cook for 4 minutes. Serve.