This time, enough with the stale hamburgers and hot dogs off the grill. Try these Pork Tenderloin Kabobs (Kebabs or kababs… whichever you spell it) or Pork Skewers to wow family and friends. With charcoal grilling and an excellent blend of spices, this BBQ Pit Boys recipe amplifies the taste.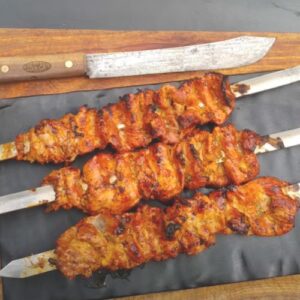 Pork Tenderloin Kebabs
Had enough of those plain old hot dogs or barbecues on gatherings? Try this pretty easy recipe to flavor up the party.
Ingredients
Pork Tenderloin

1

Tablespoon

Chili Powder

1

tsp

Salt

1

Tablespoon

Cumin

1

Tablespoon

Oil

3

Cloves

Garlic

(chopped)

Handful of purple Shallots

1

Tablespoon

Tomato Paste

Juice of 2 Limes

Fresh Green Chili Peppers

(chopped)

2

Cups

Coconut Milk

Black Peppercorns

Brown Sugar
Instructions
Cut the Pork tenderloins into thin layers. Use a skewers for the tenderloins.

Using mortar and pestle grind or crush Green Chili Pepper, garlic and black pepper.

Add brown sugar, cumin powder, oil, tomato paste, chili powder and lime juice. Mix altogether until all are incorporated.

Transfer the mixed ingredients to a bowl. Add coconut milk and mix. Add lime juice and mix. Preheat the grill.

Rub the marinade to the tenderloin. Place it on the grill for direct cooking. Flip it over and add the marinade as necessary until the barbecue is cooked. Serve while still hot.
Video