Are you a fan of fried chicken? Make use of this simple recipe: Because of the sweet spice rub, the chicken in this dish has an excellent peppery taste reminiscent of the South. If you give some smoked chicken prepared in a southern manner a try, you'll quickly understand why everyone is raving about it. Try this Smoked Southern Style Chicken recipe with your family and friends now!
You can also check Farm Fresh Chicken delivered to your door from Perdue Farms!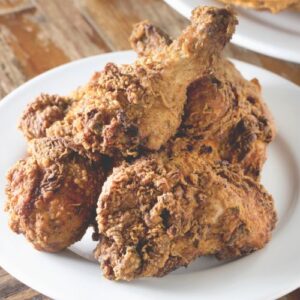 Smoked Southern Style Chicken Recipe
The chicken's sweet spice rub gives it a Southern bite. Smoked Southern Style Chicken is worth the hype.
Ingredients
1

Whole Chicken

Salt

1/2

Cup

Paprika

3/4

Cup

Dark Brown Sugar

1/4

Cup

Garlic Powder

3/4

Cup

White Sugar

2

Tablespoon

Ground Ginger

2

Tablespoon

Black Pepper

2

Tablespoon

Rosemary Powder

2

Tablespoon

Onion Powder
Instructions
Remove the chicken's spine after cutting it in half.

Combine all ingredients EXCEPT salt and chicken.

Salt the chicken well, then massage with the spice mixture.

Cook the chicken in the smoker for two hours before serving.